Originally developed by the principles of A2Z Optics Corporation, this optics engine is a

prime example of how A2Z Innovations can assist you in developing your product needs.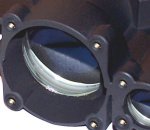 After working with a teaming partner on the top-level functionality requirements, the principles of A2Z were able to develop the product from initial concept, design, prototype and production resulting in international product sales and cash flow for both A2Z Optics Corporation and its teaming partner.
Recently, the entire business division for this product was purchased by an outside venture from A2Z Optics Corporation.
In addition, A2Z Innovations provides commercialization services and support for its clients including marketing, business development, commercialization plan development, finding Phase III/commercialization funding, and assisting with product development maturation through the various levels of production and sales.