The Temporally Resolved Thermal Sensor is a multi-color optical pyrometer for non-invasive measurements of very high-speed, and very high-temperature events. The battery operated unit (fully-functional breadboard shown here) is simply aimed at the object or interest with the assistance of a visible aiming laser. An easy to use Graphical User Interface (GUI) steps the user through automated calibration, alignment, and sensor operation. Data is both presented graphically to the user (computer not shown) and is stored for additional off-line processing and data retrieval. The Temporally Resolved Thermal Sensor was originally developed by A2Z Technologies Corporation for the US Navy under the Small Business Innovative Research (SBIR) Program.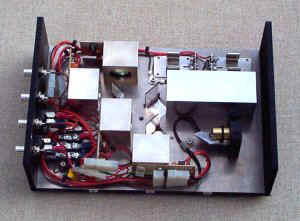 Applications of the sensor includes the measurement of high-speed, single-shot, high-temperature events. One such example is during the testing of certain reactive materials currently in development. The plot below shows data collected by the functional breadboard during a live-fire reactive material test.
Key Benefits/Features
| | |
| --- | --- |
| | Temperature Range = 1500 - 8000 K |
| | Ás Sampling Times |
| | 10 Bit Digital Resolution |
| | Visible Aiming Laser |
| | Operation in high-EMI Environments |
| | Post Test Processing < 1 Minute |
| | Field-of-view ~7 mrads |
| | High-resolution, time-resolved temperature plots |
| | GUI Interface |
| | ASCII Data (and other) format outputs |



Did You Know?



Did you know that the surface temperature of the sun (by a best-fit blackbody curve) is approximately 6000 K?